TGROUP - ABOUT US
TGROUP Trade and Travel Joint Stock Company is an international travel enterprise, focusing on exploiting Korea and Vietnam tourism market (in & outbound). With experienced staff who have been intensively trained abroad, TGROUP applies advanced technology in developing a system that providing diverse and high-quality tourism services and products (T-Travel).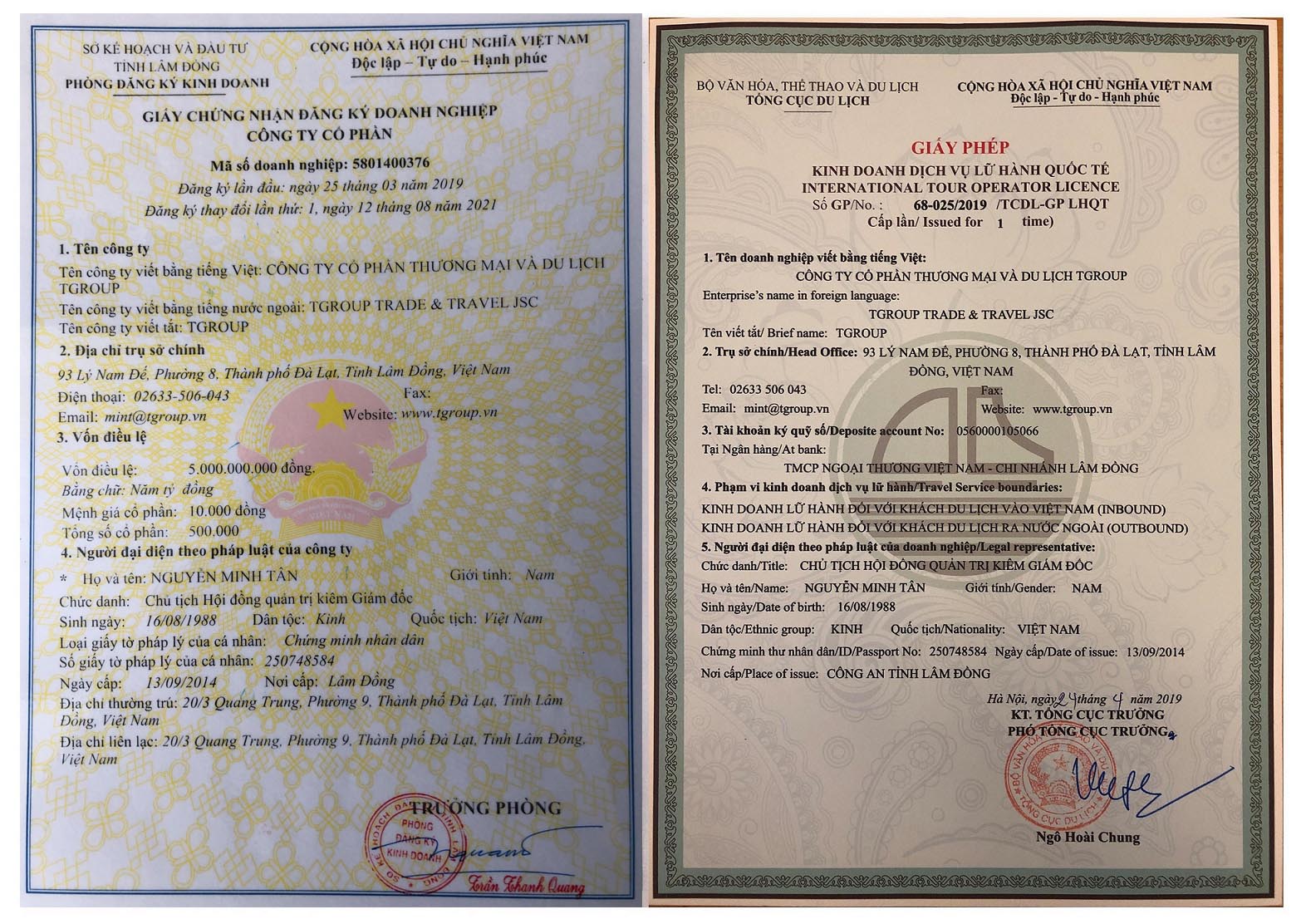 Besides, TGROUP provides other services including Event Organization (T-Team Building Event); Providing local tourist guides (T-Tour Guide); Importing and trading Korean consumer goods (T-Trade); cafeteria supplying clean tea and coffee in Dalat city (Tea & Coffee); Developing tourist car rental system (T-Transport); Business and hotel development consulting (T-Tourism Advisory); Tourism governance responsibility of urban planning (T-Tourism Governance).
In addition, social service activities of TGROUP include supporting tourism PhD. students to contact with specialized professors in Korea in order to enhance the development of scientific researches in tourism management and tourism policy in Vietnam (T-Tourism science) as well as providing Korean-Vietnamese cultural and tourism news (T-Times).

Company's name
CÔNG TY CỔ PHẦN
THƯƠNG MẠI VÀ DU LỊCH TGROUP
International name
TGROUP TRADE & TRAVEL JSC
Abbreviated name
TGROUP
Tax code/ Business code
Dated March 25th 2019
Inbound and Outbound
Tour Operator Licence
68-025/2019/TCDL-GP LHQT
Dated April 22nd 2019
Head office
93 Ly Nam De, Dalat city, Vietnam
Contact
Phone number: +84 2633 506 043
Email: admin@tgroup.vn - Website: tgroup.vn
Trading account
Vietcombank: 056 1000 615 789 (VND)
Namabank: 504 0592370 56789 (VND)
Namabank: 504 0592370 99999 (USD)
International travel deposit account
056 0000 105 066
Vietcombank Lam Dong
Deposit value: VND 500.000.000
The meaning of the name TGROUP
The word 'T' in T-GROUP represents the first letter of TGROUP's main activities: Travel, Trade, Tourism advisory/consulting, Tourism governance, Tour guide, Transport, Team building event, Tea & Coffee, Tourism science, Times.
Tourism Governance Responsibility Of Urban Planning.
The first letter 'T' of 'Technology' implies the application of technology and science in developing tourism services. T-GRO-UP sounds like "T grow up" implies growth potential of the company.
Brand logo of TGROUP - SMARTOURISM
TGROUP - SMARTOURISM brand with the combination of SMART and TOURISM aims to develop Smart Tourism. TGROUP cooperates with Korean partners focusing on developing tourism products using technology namely ABC technology (Artificial Intelligence, Bid Data, Convergence) in order to provide tourists with optimal service products.
"T" in TGROUP sounds like "Tea" which is specialty of Dalat city, Lamdong. For that reason, TGROUP uses stylized picture of green tea leaves for our brand logo.
Five green tea leaves represent five main business activities of TGROUP (Travel, Trade, Tourism advisory, Tourism governance and Tourism science).
According to scientific research, green tea is one of the healthiest drinks in the world which contains the highest amount of antioxidants.
Green tea leaves used in brand logo of TGROUP imply the fact that "high quality tourism activities bring positive impacts to physical and metal health of customers"